Court Street Vet has been a locally owned small animal hospital in Keene, New Hampshire for over 34 years!
We work hard to provide you and your pets with exceptional veterinary care, delivered by compassionate people, at affordable prices.
We are extremely proud of our team; this hospital is a positive and dynamic environment! Our nurses have decades of collective expertise and spend every day making your pets feel safe and loved during their vet visits. Our doctors offer a wide breadth of experiences: from practicing medicine in far-flung corners of the world, to critical care training, to advanced training in surgical and ultrasound scanning techniques. Come meet our team; we're always accepting new patients!
Court Street Veterinary Hospital aims to provide the best care and medical services to our clients and patients in support of the ever-improving "Human Animal Bond". We work hard to cultivate a positive, fear-free environment for your pets; we know that going to the doctor can be stressful and scary! Court Street Veterinary hospital combines the latest advances in veterinary medicine with highly trained compassionate staff, resulting in the delivery of brilliant care and excellent customer service. Our doctors work hard to stay abreast of upcoming treatments and technologies, which translates into medical and surgical services for your animals that go above and beyond. Our hospital motto is "We Can Do That", by the way of compassion, progressive care, and exceptional medicine.
Dr. Sabrina Estabrook-Russett, BVM&S, MRCVS
Our Practice Owner, Dr. Sabrina Russett, is a graduate of the University of
Edinburgh's Royal (Dick) School of Veterinary Studies in Scotland. She is a
member of the New Hampshire VMA, the American Veterinary Medical
Association, and the UK's Royal College of Veterinary Surgeons.
Dr. Russett immensely enjoys the challenges and dynamic nature of small animal general practice. She has traveled the world to participate in foreign veterinary projects including offering medical and rehabilitation care to an orphaned White Rhinoceros in South Africa, and performing surgical procedures for street dogs and cats in Sri Lanka. She also spent a year practicing in interior Alaska, hundreds of miles away from the nearest referral center or specialty hospital. It is this combination of experiences that shaped her into a highly motivated and confident veterinarian and general practice surgeon.
Dr. Russett's professional interests include orthopedic and soft tissue surgery.
She is currently working to obtain an advanced General Practitioner Certificate in
Small Animal Surgery (GPCert SAS) through the International School of
Veterinary Postgraduate Studies. She is committed to providing advanced
surgical care to the animals of rural Southern New Hampshire.
As a first-generation college student, Dr. Russett is also intensely passionate
about supporting the education of future Veterinarians and Veterinary Nurses.
Check out our Pathways to Veterinary Medicine Program and other student
opportunities to learn more. BIPOC, LGBTQA+, and students experiencing
socioeconomic challenges are especially encouraged to apply.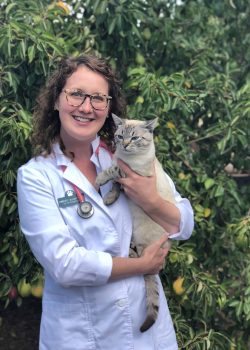 Dr. Allsopp joined Court Street Veterinary Hospital in 2018. She earned her
undergraduate degree from Cornell University, and then spent a year working in a zoo before relocating to North Carolina. She found herself living in Edinburgh, Scotland where she formed a fast friendship with Dr. Russett while attending the Royal (Dick) School of Veterinary Studies. She was drawn back to the States and completed her veterinary degree at Oregon State University's College of Veterinary Medicine. Dr. Allsopp remained in Oregon after qualifying, before deciding to relocate back East.
Dr. Allsopp's professional interests include cardiology and diagnostic imaging,
she has pursued extensive continuing education focusing on small animal
ultrasound. Not only is she incredibly skilled in small animal abdominal
ultrasound, she is also currently working on completing an advanced Small Animal Cardiac Immersion Program. This program allows us to offer advanced cardiac care at a General Practitioner level, performing diagnostic cardiac ultrasound examinations (echocardiograms) for patients with heart disease.
Outside of the hospital she enjoys hiking, gardening, and knitting.
Dr. Miller grew up on a small farm in Indiana where she developed a love for animals at a young age. She earned her undergraduate degree in Animal Science at the University of New Hampshire and then went on to obtain her Doctorate in Veterinary Medicine from Cornell University in 2009. Following graduation from veterinary school, Dr. Miller moved to Phoenix, Arizona where she completed a rotating small animal internship at the Emergency Animal Clinic, PLC (now Arizona Veterinary Emergency and Critical Care Center). Dr. Miller worked as a staff veterinarian at the Emergency Animal Clinic's five locations for seven years. During that time, she also enjoyed various other roles including managing a feline blood donor program and mentoring veterinary interns and externs. In 2016, Dr. Miller transitioned from emergency and critical care medicine to a general practice in Gilbert, Arizona where she immensely loved having longer term relationships with her patients and their pet parents. In 2018, Dr. Miller and her family returned to New England to enjoy its four seasons and be closer to family.
Dr. Miller's professional interests include Fear-Free practice, pain control, preventative medicine, internal medicine, and emergency medicine. 
Outside of work, Dr. Miller loves being active and spending time outdoors with her husband and their two toddlers. Her family also includes two cats, Celia and Sully. Celia has been with Dr. Miller since veterinary school and is constantly nursing and mothering all of the Millers. Sully joined the Miller household in 2011 after getting caught in a gutter in downtown Phoenix. He is a free spirit and great at generating laughter!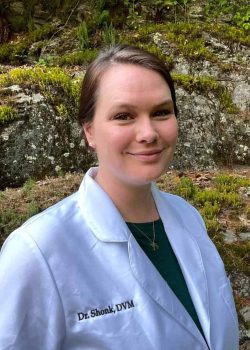 Dr. Chrissy Shonk joined Court Street Vet in July 2022. Dr. Shonk grew up in Northeast Pennsylvania where her love of animals and science began. She earned her undergraduate baccalaureate degree from Wilkes University, with a major in Biology and minor in Chemistry. She completed her veterinary degree at Tuft's Cummings School of Veterinary Medicine. During this time, she gained invaluable experience with both small animals and dairy production medicine as she pursued
multiple externships in addition to traditional coursework. Dr. Shonk now enjoys practicing small animal medicine with a professional interest in soft tissue surgery and preventative medicine.

Some of her favorite patients are giant breed dogs, as she has a large St. Bernard named Fergus. She also has a rabbit named Cash and a cat named Maude Elias. Outside of the hospital she enjoys hiking, kayaking, and swimming in her new home state of New Hampshire.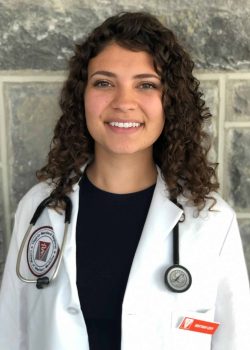 Dr. Brittany Levy joined Court Street Veterinary Hospital in 2023. She originally hails from the great State of Texas, and later moved to Northern Virginia prior to high school. She graduated from Virginia Tech with an Animal & Poultry Sciences Bachelor's Degree, and then obtained her Veterinary Degree from the Virginia-Maryland College of Veterinary Medicine- Go Hokies! During Veterinary School Dr. Levy initially focused on mixed animal practice, but quickly found her niche working with our loving companion animals in dog & cat medicine. Dr. Levy values the human-animal bond and strives to provide excellent preventative care & gold standard medicine to keep our pets happy and healthy, in support of the incredible bond we have with our animals.
Outside of the hospital, Dr. Levy loves adventures and spending quality time with family and friends. Her two cats, Indy (Indiana Jones) and Nyx, are not as adventurous but bring much love and happiness into Dr. Levy's world.
Molly Miller (Client Service Representative)
Molly has been a core part of the Court Street Vet team since June 2018 and has lived in New Hampshire her whole life.  Molly has a background in customer service, telephone triage and is skilled with multiple software support programs. These skills combined with Molly's love and appreciation for animals have provided her with the foundation upon which to build new experiences and relationships in the field of animal care as a Client Service Representative.
Molly hugely enjoys connecting with clients and their pets and values being part of the dynamic team at Court Street Veterinary Hospital. She has continuously taken on more demanding projects and roles with our hospital and is currently working hard to pursue her CVPM degree through Penn Foster College's Veterinary Practice Management Certificate Program.
When Molly isn't managing the madness that can sometimes occur in a hospital lobby, she spends her days in Lempster with her husband, 2 children and her furry kids; two pups named Madden and Ted, and cute kitties Sunny and Chowder. They enjoy taking adventures to the white mountains, seeking out the next amusement parks or exploring New England's rich history.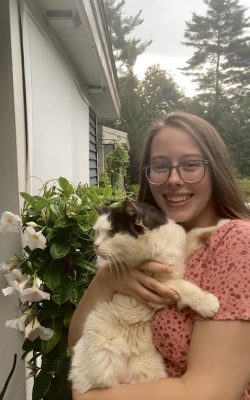 Willow Lavallee (Client Service Representative)
Willow joined Court Street Vet in 2022 and has quickly become a smiling &
incredibly supportive member of our team! As a child, Willow was inspired by
Steve Irwin's love for animals and has always been interested in working with
them! From fur and fluff, to spikes and scales, Willow has a strong love and
appreciation for all species. Willow grew up with two cats, Shakespeare and
Sparky, and an iguana named Pickles. As a child, Willow hoped to be a
Veterinarian.
Willow holds a Bachelor of Science (B.S.) Degree from the University of New
Hampshire in Biomedical Science, with a special focus on Medical and Veterinary Sciences. Since joining our team, Willow has immensely enjoyed applying the medical and veterinary knowledge obtained in her degree to serve as an advocate for our patients. Willow currently lives with her cat Sparky (who is an exceptionally grumpy and judgmental old man).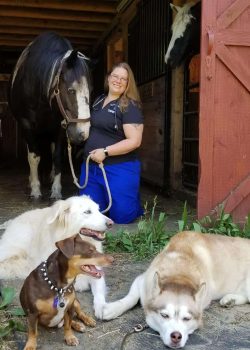 Jennifer Davis, B.S., (Head Veterinary Nurse, CVT, Fear Free Certified)
Jen started her professional career in Finance and earned her Bachelor of
Science degree (BS) through Franklin Pierce University. Feeling a call to do
something that fulfilled her, she changed professions in 2004 and joined the
veterinary field! Jen worked for an ambulatory equine practice in the multifaceted role of Practice Manager and Veterinary Technician. She joined the team at Court Street Vet in 2006, splitting her time between both practices until 2013, when she made the jump to Small Animal Medicine and joined CSVH full time.
Jen passed her VTNE (Veterinary Technician National Exam) in 2013 and has
continued to excel and learn the best practices through ongoing Continued
Education courses.
She is a Certified Veterinary Nurse with licenses in NH and MA. She is
RECOVER CPR certified in both basic and advanced Life Support through the
American College of Veterinary Emergency and Critical Care. She is a member
of NAVTA, NHVTA, MVTA, and AAEVT. Most recently she has become Court
Street Vet's Clinic Advocate, working with NOMV (Not One More Vet) to help our hospital obtain the CLEAR Blueprint Certification, which demonstrates our commitment to maintaining a supportive and mentally healthy environment for the entire staff.
Jen is Fear Free certified in Small Animal, Equine, and Avian care. Although her career has taken her into Small Animal medicine, she still stays abreast of the most current updates in Equine Medicine, her first love! Jen has served as our Head Veterinary Nurse since 2018 and continually strives to encourage our
Nursing and Veterinary Assistant staff to advance their careers through firsthand experience and continued education.
After nearly 20 years in this profession Jen has found working with surgical and orthopedic patients to be most personally rewarding for her. She consistently works to advance her nursing skills to manage more complicated surgical procedures along with our doctors as they also expand their training; this incredible team dynamic allows us to offer progressive procedures and surgeries. Jen also enjoys working with clients to educate humans on pre- and post- operative care for orthopedic & extensive soft tissue surgeries, and the management of chronic diseases such as diabetes mellitus and hyperthyroidism.
When Jen is not at work she is at home caring for her own pets. She lives on a
small horse farm with her husband Scott and their animals. She enjoys trail riding with her horse Striker, spending time outdoors with their dogs and kayaking and gardening.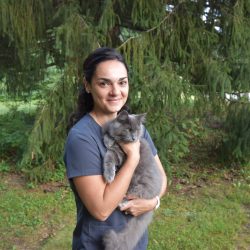 Sue Ferrera, B.A. (Veterinary Nurse, CVT)
Sue grew up in Framingham, MA having a variety of pets she loved along the way. She now lives in Winchester with her husband, two children, and two cats; Jasper and Ash. In her spare time, Sue enjoys Volunteering at the Winchester Wildlife Rehabilitation Center, spending time with her family, and trips to the ocean.
Sue joined our hospital in March of 2017 and has quickly endeared herself to our family. Her gentle nature and compassion for animals allows her to help them feel safe and cared for. She appreciates that each day at the hospital is different and challenging, but rewarding at the same time. She enjoys working with her Court Street Vet team, who shares her love of animals and desire to do what is best for them. Sue earned her degree in Veterinary Nursing through Penn Foster College; She enjoys working with your pets, and her Court Street Vet team, who share her love of animals and desire to do what is best for them.
Courtney Mountford (Veterinary Assistant)
Courtney joined the team in December of 2018. She grew up in Richmond, NH with animals always a part of her life. She entered the animal care field in 2013, working for a Maltese/Yorkie Breeder. A year later she moved onto a doggy daycare/boarding job at the Monadnock Humane Society. She was then promoted to administrative assistant, where one of her tasks was to take photos of the shelter animals to help them find their forever homes! Courtney moved to Louisiana for a year and decided she couldn't handle the heat. Courtney is very proud to be a part of Court Street Vet's wonderful team. When she is not chasing after her daughter at home, she enjoys photography and creating crafty projects. Courtney also enjoys keeping up on her music skills by practicing with her multiple instruments. She enjoys being able to make clients smile and patients wag their tails or purr happily.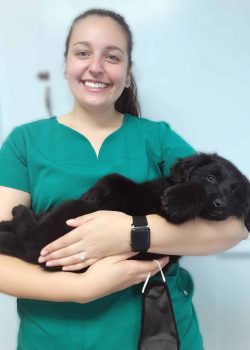 Alissa Harris (Veterinary Assistant)
Alissa joined Court Street Vet in August of 2020, after working at a doggy daycare and boarding facility for over 4 years. Alissa's experience and naturally calm demeanour are great tools for supporting our most nervous patients! She is currently earning her degree in Veterinary Nursing through the Penn Foster College technician program. 
On her days off Alissa spends time with her two dogs, two cats, and bearded dragon.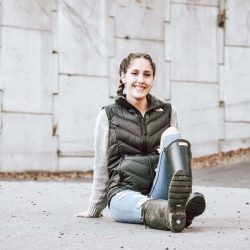 Sarah Schadler (Veterinary Assistant)
Sarah joined our team at Court Street Vet in April of 2021. She graduated from Fall Mountain Regional High School where she participated in the Agriculture Program for 2 years. This program taught her how to tend to the needs of farm animals and how to operate a variety of equipment. Through this program her love for animals grew and she realized working with them is what she wanted to do for a career. Sarah is now living out her passion and earning her degree in Veterinary Nursing through Penn Foster College. In her spare time Sarah enjoys being with her family, traveling, and participating in her favorite sports: Volleyball and Softball.
Answer 1 will be found here.
The answer to question 2 will be found here.