Orthopedic Surgery Procedures
Cranial Cruciate Ligament Repair
Rupture of the CrCL (the dog's equivalent of the ACL) is one of the most common reasons for hind limb lameness, pain, and resultant arthritis in the knee.
Since the development of this problem in dogs is much more complex than in humans, and they experience different degrees of rupture (partial or complete), the canine condition is referred to as 'cranial cruciate ligament disease' (CrCLD). While the clinical signs (symptoms) associated with CrCLD vary, the condition invariably causes rear limb dysfunction and pain.
Diagnosing complete tears of the CrCL is easily accomplished using a combination of gait observations, physical examination findings, and radiography (X-rays).
Many treatment options are available for CrCLD. The first major decision is between surgical treatment and non-surgical (also termed conservative or medical) treatment/management. The best option for your pet depends on many factors, including their activity levels, size, age, skeletal conformation, and degree of knee instability. Deciding to pursue surgery is a big decision & we are here to help answer your questions and guide you to a choice that is right for your pet and your family.
We always recommend our patients see a Boarded Orthopedic Surgeon for a specialist opinion & repair; though if cost or distance are insurmountable obstacles, we are proud to be able to offer care at a local General Practitioner level!
Although she is not a Boarded Specialist, Dr. Sabrina Russett has completed extensive and ongoing continuing education surgical courses to perform the above diagnostics and offer surgical procedures for Cranial Cruciate Ligament Rupture repair. This allows your pet to undergo extensive diagnostics and receive excellent care, all without having to leave Keene. Court Street Veterinary Hospital offers TPLO, TTA, and Ex-Cap Suture repair Surgeries. 
We can work with you to determine which repair is the best choice for your pet!
Tibial Plateau Leveling Osteotomy (TPLO)
TPLO, an osteotomy-based technique with surgical implants, requires a semi-circular cut along the top of the shin (tibia) bone. The bone segment is then rotated to realign the joint surface and create a level plateau; this ensures that when your pet bears weight and their muscles engage, all of the forces are transmitted through the joint & there is no longer any abnormal sliding motion within the knee.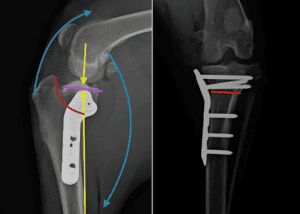 Tibial Tuberosity Advancement (TTA)
TTA, an osteotomy-based technique with surgical implants, requires a linear cut along the front of the shin (tibia) bone. The front of the tibia called the "tibial tuberosity" is advanced forward until the attachment of the quadriceps is oriented approximately 90 degrees to the tibial plateau. This is a way to accomplish altered biomechanical angles to render the knee more stable in the absence of the Cranial Cruciate Ligament.
Extra-capsular structure stabilization
Also called "Ex-Cap Suture", is a popular technique. While there are many variations of this technique and types of securing implants, the consistent goal is to "mimic" the function of the ruptured CrCL with a suture placed in a similar orientation to the original ligament, though outside of the joint capsule itself. The long-term goal is to facilitate the formation of organized scar tissue periarticular (around the joint) that will provide stability even as the suture gradually stretches or breaks.
If your pet is not a current patient of Court Street Vet but has been diagnosed with this condition, then you should know we are always happy to work with our local colleagues and see your pet on a referral basis!
Femoral Head & Neck Ostectomy
The femoral head osteotomy is the hip surgery where the head and neck of the femur (thigh bone) are cut off and permanently removed. There are many reasons why a veterinarian may recommend the removal of the femoral head and neck to improve a pet's condition. Some typical reasons include:
A dislocated hip

A broken femoral head and/or femoral neck

Hip arthritis

Legg-Perthes

disease (a developmental hip degeneration)
Ultimately, the goal of the femoral head and neck ostectomy (FHNO) surgery is to create a false hip joint that will be more comfortable and yield better mobility than the diseased joint the patient had before. Since results are generally so good with surgery, provided the patient is relatively small and/or relatively active, often simply removing the femoral head is the least invasive, least costly, and fastest route to a pain-free mobile hip.
Forelimb or Hindlimb Amputation
[ Meet one of our best buds, Barney!  He is a Siberian Husky Mix, an active & playful amputee, and one of the kindest souls you'll meet. ]
There are many reasons to consider pursuing amputation such as irreparable trauma, cancer, or even severe arthritis pain.  Amputation is obviously a drastic step and one that you must carefully consider, sometimes even to the point of soliciting a second opinion. Contemplating amputation in a pet can be very emotional, but we can assure you that many animal amputees do extremely well! If you're considering this procedure for your pet, please know that we're here to support you and your pet!
*Educational information and images made possible through Veterinary Information Network & Veterinary Partner.
Monday—Friday: 8:30 AM – 5:30 PM
Saturday:   Closed
Sunday:   Closed