We are so excited to show you our hospital
We're thrilled to offer you 4 patient Exam Rooms, a state of the art Treatment Room, two Surgical Suites, a dedicated Ultrasound, Digital Xray Room, and Isolation rooms—offering the best standard of care in Keene! We've designed this hospital with special consideration for our feline friends, and lots of room for your pups!
Welcome to the new Court Street Vet!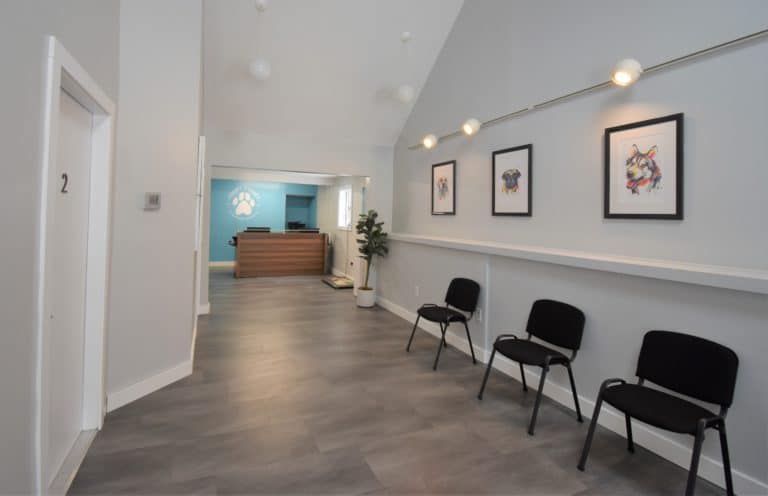 Welcome! You'll be greeted by our amazing team at Reception and a Veterinary Assistant or Nurse will escort you and your pet into an exam room.  They will take your pet's history and discuss your goals for the appointment.  You'll then meet with a doctor for your pet's physical examination & treatments. 
We now have two dedicated 'Dog Exam Rooms' that allow us lots of room to work with your pups, obtain diagnostic samples while you're right there with them, and administer vaccines & other treatments. The treat jars are always fully stocked!
We also have two dedicated 'Cat Exam Rooms' that allow us to work with your sweet kitties, and administer vaccines & other treatments.  Our Cat Rooms have calming pheromones to decrease patient anxiety, and we always take a gentle approach with all of our patients, especially cats!
Our Treatment Area also includes an in-house Lab for immediate results on urine samples, haematology, biochemistry blood tests (and more!); a Pharmacy; Surgical Prep Station; Workstation with computers; and ICU Kennels for monitoring our critical patients!
Treatment Area Workstations
Workstations in the treatment area mean that your pet's Doctors, Nurses, and Assistants are always close by & taking care of them!  In-house microscopy allows us to evaluate the cytology of blood smears, ear swabs, skin scrapes, and test Fine Needle Aspirate samples of many cutaneous masses.
We have two Surgical Suites for your pets' care. All pets are monitored while under anaesthesia by Certified Veterinary Nurses, watching their heart rate & ECG, respiration rate, blood pressure, oxygenation levels- and more!
Our Surgical Suites have a viewing window! It's extremely important to Court Street Vet to continue to support the education of future Veterinarians and Veterinary Nurses; this lets students view procedures from a safe & sterile distance.
Dog Kennels for
Hospitalized Patients
Our hospital has a dedicated Dog Kennel Room with both small kennels for our teeny patients, and large 4'x6′ kennels for our giant friends.
Cat Room for
Hospitalized Patients
Our Hospital has a dedicated Feline Only Room for hospitalized patients; they are kept away from the noise and excitement of the puppies & can recover quietly in their own suites.
Our Ultrasound Suite allows our Doctors to perform scans of internal organs such as the liver, spleen, kidneys, bladder, and GI tract. This allows us to visualize abdominal organs and is non-invasive. Stay tuned as we pursue advanced training to offer echocardiograms (scans of the heart) in the future!
Our Digital X-Ray Suite allows us to take on-site radiographs of your pet to evaluate orthopedic concerns such as cruciate disease or fractures… and internal systems such as the heart & lungs, and abdominal organs.  All of our radiographs are scanned by AI technology to offer an immediate 'second opinion' of your pet's X-Ray; this allows us to provide you with a Radiographic Report for your records!  The radiograph on display stars Dr. Russett's naughtiest hound, Bou, with a stomach full of rocks and staples!
We love our patients and are so thrilled to provide this standard of care to them (and you!) in the heart of Keene!  
Stay tuned while we tackle our exterior renovations next!